Fantastic Farmhouse Retreats
We're sure that everyone would agree, an escape into the British countryside is idyllic, to say the least. Thankfully, finding farmhouses to rent has never been easier. Visiting the countryside takes you back to a different time, before the rush that life often is today. Between the rolling hills of lazy sheep, things move at a slower, gentler pace. Among the many possibilities for a relaxing getaway, renting farmhouses in the UK is definitely an option worth considering. At Party Houses, we offer an impressive selection of farmhouses for rent, dotted throughout the UK. This means you can find farmhouses to rent 'near me', in whichever part of the country you're looking.
Farmhouses, being large houses on farms, are surrounded by all the joys one expects to find on a farmland holiday. Horses, cows, goats and wild hares- the presence of gentle animals grazing on expanses of green grass make a farmhouse holiday particularly special. If you're lucky enough, you might even catch a glimpse of a barn owl! Renting a farmhouse is a great place to start for all sorts of adventures. They are particularly good for those travelling with children, as the surrounding areas can pique your children's curiosity and intrigue. Additionally, many of our farmhouses are both pet and wheelchair friendly, making them appropriate for the entire family. Whether you're travelling with friends or family, or planning a corporate retreat, farmhouses serve as wonderfully picturesque destinations for holidays centred around nature and relaxation.
Amazing Farmhouses to Rent
The UK is a country rich in fascinating human history. Birthplace of the industrial revolution, Great Britain set the tone for a new world in the 18th century. As factories were built and tasks were mechanised, troves of people found their way to new developing cities in search of work. These cities grew exponentially as more and more machines were built, and a new way of life was born. But the farmhouses and breath-taking British countryside remained, forgotten by some, surviving on the outskirts of increasingly popular cities. The environmental impact was devastating, but in the centuries since, several areas have been sectioned off as national parks, starting with the Peak District in 1951.
The world has been forever changed by the industrial revolution and technological advancements that followed. It is for this reason, that there is something very special about staying in a farmhouse during your time away. Farmhouses give us an opportunity to return to our roots and revisit an older and simpler way of life. Cities are vibrant and stimulating, with many fantastic and attractive features themselves. But farmhouses are built around different values. They are about comfort and relaxation rather than entertainment and business. Renting a farmhouse for a holiday gives you an opportunity to unwind a little and embrace the gentle pace of country life.
In addition to their peaceful connection to a different time in human history, there are many current reasons to rent a farmhouse for your next holiday. In addition to being set in stunning locations, farmhouses generally offer ample space for large families and friends. While many of our farmhouses date back 100's of years, they have kept with the times and offer all sorts of modern features and luxuries. Here are some our top 5 reasons for renting a farmhouse:
1. Fun for kids:
Farmhouses are generally, as their name suggests, set on farms. This provides the perfect place for children to play and explore. Depending where you end up going, you may even be able to watch some local fam animals. In some cases, it is even possible to attend farm tours, where you can learn about the operations of the farm.
2. Reconnect with nature:
It creates an opportunity to reconnect with nature. Staying in a farmhouse means that you will be surrounded by farmland and countryside. This creates and relaxing and peaceful environment that will undoubtedly leave you feeling refreshed and reconnected with yourself and your surroundings.
3. Visible stars:
Stargazing with the most incredible collection of stars. One thing that really reduces the visibility of stars is light pollution, which is a major issue in most cities. Renting a farmhouse means you'll be out of the city, away from the city lights. The result of this is that the stars are significantly brighter.
4. Activities:
Many farmhouses or farmland holiday destinations offer all sorts of unique activities. On the simpler side, walks and hiking routes create a lovely opportunity to spend some time outdoors. Some areas have nearby stables for horse riding lessons or offer tours of the farm itself. The houses themselves come equipped with all sorts of features like hot tubs and games rooms so that even during winter months, you'll be cosy and entertained.
5. Quality time:
Renting a farmhouse with your friends or family creates a lovely opportunity to spend quality time with your loved ones. Without the usual distraction of daily life, you can connect with everyone over activities in nature, and delicious home-cooked meals.
Farmhouses for family holidays
In addition to being a wonderful choice for a peaceful getaway, farmhouses serve another function. Because these houses are particularly large, they make an ideal setting for all sorts of events and reunions. Many of our Party Houses offer spaces with annexes or separate spaces for groups with a few in need of some added privacy. They offer fully equipped kitchens plus the option of hired caterers, and dining space for multiple guests. For moments between celebrations and activities, many of our farmhouses to rent offer games rooms, hot tubs, swimming pools, and expansive grounds. This makes them ideal for entertaining large groups of people. Between billiards tables, Xbox snugs, dart boards and cinema rooms, you can be sure there won't be a dull moment. If you're looking to rent a farmhouse, take a look through the many options we have available. If ever you're having trouble deciding, send in an enquiry and one of our friendly agents will assist you in finding the perfect "farmhouse to rent near me."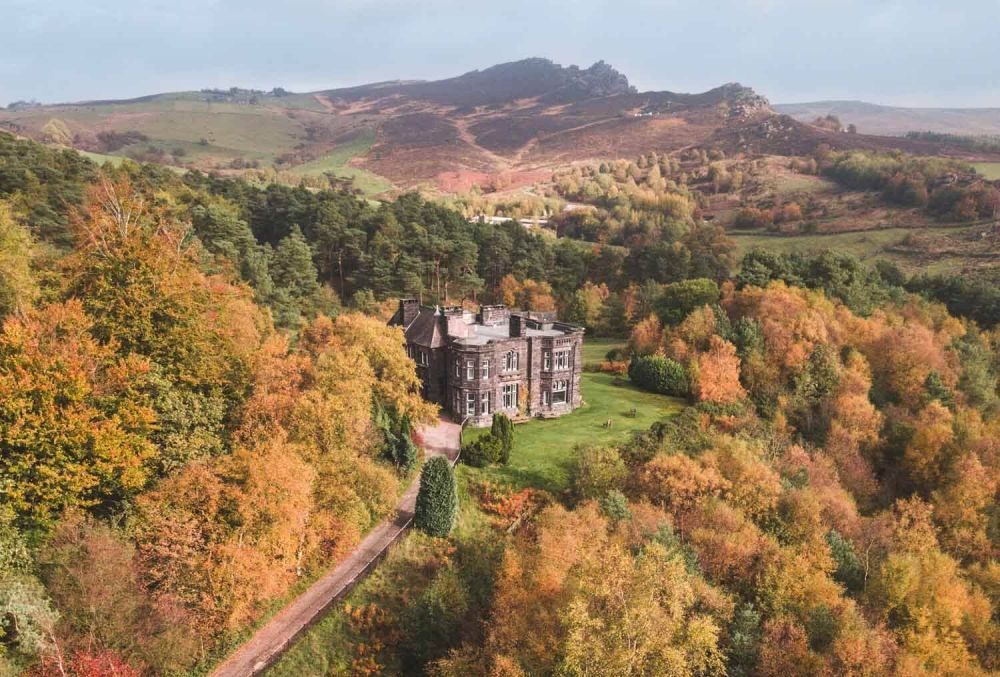 Farmhouse to rent near me
If you're trying to rent a farmhouse, it shouldn't be too difficult to find a "farmhouse to rent near me." At party Houses, it's possible to rent a farmhouse almost anywhere in the UK. Some of our favourite areas to visit include the Midlands and Peak District. The Peak District is a particularly wonderful place to visit, as it is home to the first national park ever established in the UK, the Peak District National Park of 1951. Being a national park, the area offers many beautiful walking and cycling routes. If you prefer something closer to wherever you are based, take a look at our venues using the map function. This will allow you to check on the map which venues are closest to you. Please be advised that as with other accommodation rental companies, exact locations are only provided on booking. If you require additional assistance, give us a call or send in an enquiry so that our team can help guide you.